By David Haldane
May 3, 2018
It was the first time Caridad Beach had ever seen fireworks.
We hadn't exactly planned it that way. But as we went through the process of envisioning the renewal of our nuptial vows on the little beach where my wife had romped as a child, a wedding planner asked whether we wanted to light up the sky. Ivy and I looked at each other and, realizing that we were already way over budget anyway, shrugged and said what the heck?
And so it came to pass that myriad-colored sparks erupted on a recent Saturday night over the white sands of Siargao Island off Mindanao's northeastern coast. What had begun as a promise had evolved into fact; our tenth anniversary was emblazoned by lights.
To make that happen, of course, a good deal of planning had occurred. Processional assignments had been made and programs printed. Travel plans had been finalized, not only for us but for the many relatives and friends from afar. Ivy had selected color schemes and rented dresses for dozens of bridesmaids, all of whom eventually squeezed into a single house with one bathroom and no running water. And only then came the final hurdle; a last-minute nail-biting conference with the grim parish priest to convince him that we would not be violating any cardinal rules.
As per his instructions, the festivities began the next day with a Thanksgiving Mass in the local chapel. Then repaired to the beach for a custom-designed ceremony followed by what promised to be a long night of carousing.
The event was not without its glitches. The master-of-ceremonies had neglected to remind us to write our own vows. So, when it came time to read them, well, we both had to do some quick ad-libbing by the seats of our pants. And when Ivy and her bridesmaids performed the dance they'd been practicing all week, the host overruled my impassioned objections to insist on my participation. The result: a group of smart-prancing performers moving in slick unison accompanied by a lone barong-clad white guy in the front row resembling a cheap marionette attached to the strings of a drunken puppeteer.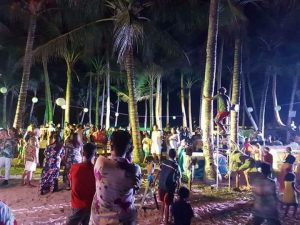 Ah, but then came the fireworks and all was forgiven. A few hundred souls spontaneously jumped to their feet in a gut-wrenching cheer. And as the disco music ground deafeningly past the edges of a wind-wisped night under the salt-scented trees, I knew instinctively that everything had turned out just fine; in fact, it was perfect.
Later the barangay captain, clearly emotional under the influence of more than a few beers, sought me out to say thanks. "This, it's important for Caridad," he said, gripping my arm, almost weeping with joy. "So many people. So good for the community…"
His was one of many expressions of gratitude that night.
And that's how I learned something new about my wife's home country. Everyone who's ever been to the Philippines knows about its penchant for partying. What fewer understand, though, is just how deep it goes.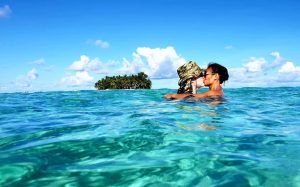 For me, as for many revelers that night, it was a moment of thanksgiving. What had begun in the church had now spread to the beach. Thank you, I thought, for this most amazing moment. Thanks for the ocean and the moon and the stars. Thanks for the fireworks lighting up the dark sky. Thanks for the love and the friendship and the warmth. Thanks for a marriage that has lasted ten years. Finally, and perhaps most importantly, thanks for this place that has so touched me with its joyful tears.
A former Los Angeles Times staff writer and winner of a 2018 Golden Mike award in radio broadcast journalism, David Haldane fell in love with the Philippines on his first visit there in 2003. A few visits later, he also fell in love with the beautiful young Filipina to whom he is now married and, with whom, he has returned many times. David has written extensively about his experiences in the Philippines for several publications including Orange Coast and Islands Magazine. Today he and Ivy, along with their eight-year-old son, Isaac, divide their time between homes in Joshua Tree, California, and Surigao City, Philippines. His award-winning memoir, Nazis & Nudists, recounts, among other things, the courtship of Ivy and finding a place to call home. For David that turned out to be at the tip of a peninsula marking the gateway to Mindanao where he and Ivy are building their dream home next to a lighthouse overlooking the sea. This blog is the ongoing chronicle of that adventure.
CLICK HERE TO PURCHASE ON AMAZON