By David Haldane
July 12, 2018
It's a scene that would be at home in most people's nightmares. Your mother wakes up gasping for breath. It's happened before because she's asthmatic, and this is the sort of thing that happens to people with asthma. Frantically, you call the only number you have for such emergencies; the cell phone belonging to the local ambulance driver. He takes a while to answer because it's 2 a.m. in the deep provinces of the Philippines and most people are sound asleep. When the driver finally does answer, he sounds groggy and irritated at having been awakened. "Sorry sir," he snaps before hanging up, "but tonight I'm off duty." This is the only number you have. Desperately, you consider your options. By the time you come up with one, however, it doesn't matter because your choking mother has died in her bed.
As nightmarish as that sounds, it recently happened to someone closely related to my wife. I'm not disclosing the exact relationship or location here to avoid increasing the heat. But the horrific event made me seriously ponder what it means to live on the outskirts of a developing country.
In the United States, life is like a Sears catalogue; you simply open the pages and order what you want. Need a doctor? Fine, just make an appointment and come on in. Or, better, go to the nearest Urgent Care and you will find help. If it's an emergency, of course, there's another easy solution; dial 911 and someone will come. You may not know exactly who or where from but rest assured that they will possess the skills necessary to help if they can. And if there are any questions regarding your financial viability, well, they won't be asked until long after you are saved, and the paramedics gone.
In the Philippines it's different. While some big cities – such as Manila and Davao – have fairly advanced emergency systems, in the provinces you're often on your own. And even if you can somehow get to a hospital, without a good amount of cash or credit you still could be left to die.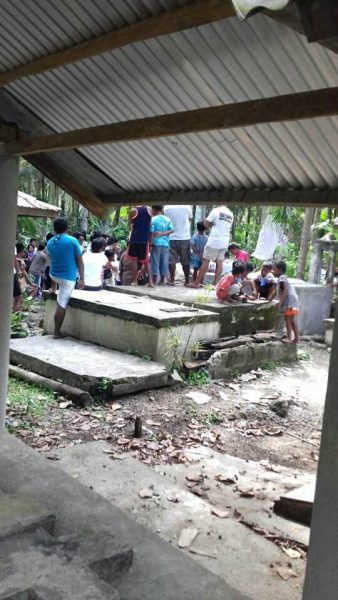 My wife's mother, who worked for many years as a traveling midwife on Siargao Island, tells the story of a patient she once treated on the remote island of Suyangan, about two hours away. During a difficult delivery, the woman lost so much blood that she needed a transfusion. So, my mother-in-law, doing what the situation required, put her on a small pam boat and set out for General Luna, the nearest municipality with a hospital. To make a long story short, the boat was too slow, and the woman died in my mother-in-law's arms.
Here's the thing; being in the Philippines is like going back in time. You feel like you're in California during the Gold Rush of 1849, or perhaps on the vast plains of middle America in the days of the Old Wild West. To some extent, you have to fend for yourself. To a large extent, I wouldn't have it any other way.
Because being here is a choice we all make. And though there is much to lose, there is much more to gain. What it comes down to is the age-old balance of safety versus intensity. While I may not feel as safe in the Philippines, I somehow feel more alive. And, in the final analysis, for me, that's more important.
The death of my wife's asthmatic relative raised quite a hue and cry in the province where it happened. Angry accusations were tossed back and forth and lots of finger pointing went all around. In the end, the errant ambulance driver who seemed to value his own sleep over someone else's life was pressured to resign. Does that mean that the victim of the next medical emergency will fare any better? Frankly, I fear, your guess is no better than mine.
A former Los Angeles Times staff writer and winner of a 2018 Golden Mike award in radio broadcast journalism, David Haldane fell in love with the Philippines on his first visit there in 2003. A few visits later, he also fell in love with the beautiful young Filipina to whom he is now married and, with whom, he has returned many times. David has written extensively about his experiences in the Philippines for several publications including Orange Coast and Islands Magazine. Today he and Ivy, along with their eight-year-old son, Isaac, divide their time between homes in Joshua Tree, California, and Surigao City, Philippines. His award-winning memoir, Nazis & Nudists, recounts, among other things, the courtship of Ivy and finding a place to call home. For David that turned out to be at the tip of a peninsula marking the gateway to Mindanao where he and Ivy are building their dream home next to a lighthouse overlooking the sea. This blog is the ongoing chronicle of that adventure.
CLICK HERE TO PURCHASE ON AMAZON