By David Haldane
June 14, 2018
Flippant.
That's the best way to describe my usual response when asked why I want to live in the Philippines. My favorite retort: "Because they treat me like a rock star."
I may have to come up with something more imaginative, though, now that that has come true.
The occasion was the 2015 publication of my book, "Nazis & Nudists; A Baby Boomer's Memoir of Love and Journalism from Psychedelic Mushrooms to Pig-on-a-Spit." Basically, it's my life story, the last third of which is devoted to the saga of meeting, falling in love with and ultimately marrying the beautiful young Filipina-of-my-dreams with whom I now reside. And most of that part of the memoir, of course, is set amid the various exotic islands comprising my sweetheart's native land.
Anyone who's ever published a book knows that it's not always all it's cracked up to be. Sure, it's initially ego-gratifying to see your name on the cover of something available on Amazon and, as they say, "wherever good books are sold." (Yeah, I wish.) But then, after the initial flurry of attention from family,  friends and press, you enter the Twilight Zone of publishing; that sort of amorphous, grey area of unfulfilled fantasies in which you realize that, despite a few literary awards, some very good reviews and one or two of the other kind, not too many people are buying the damn thing. Which results in royalty checks so tiny that you're embarrassed to show them to your wife who thinks you're a big deal.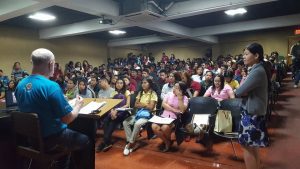 So, it's not surprising that when a Filipino journalist friend mentioned the possibility of a book tour in the Philippines, I jumped at the chance. In the interest of full disclosure, let me just say that I was planning a visit there anyway. But now the trip had a special purpose; to promote and spread my Philippine story. My friend quickly put together a modest itinerary consisting mostly of appearances on college campuses, specifically Silliman and Foundation universities in Dumaguete and Surigao State College of Technology in the city whose name it bears.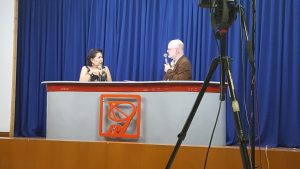 There was also, of course, some media involvement, including a nice little feature in the Sun Star of Cebu and an appearance on Silliman University TV. But it wasn't until I walked into the first auditorium full of students that the unlikely drama of the situation completely hit home; there, covering nearly the entire wall behind the lectern, hung a huge poster depicting yours truly holding up the book with his name printed largely down below. And, as I stared out across the wide expanse of seats, it was shocking to note that very few were empty.
It didn't hurt, of course, that – as I found out later – the university had made student attendance mandatory.
But their response was gratifying; the audience seemed attentive and asked lots of questions. And the pomp was typically Filipino; after each presentation there were proclamations, gifts, plaques, ribbons and, of course, the usual picture-taking sessions. Those generally took longer than the lectures themselves because, following the formal posing with faculty and administrators, the students literally lined up for selfies.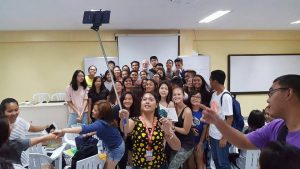 Suffice it to say that I had never experienced – nor expected – this kind of treatment. And that's when I realized that I was living out my rock star fantasy. Since then I've thought a lot about why a foreign author  would inspire such excitement in the Philippines. The most obvious answer, of course, is that it's a developing country unaccustomed, at least in the provinces, to formal visits from abroad. And that, despite the recent federal shifts in foreign policy, most Filipinos still admire Americans.
But there's a larger reason, I believe, and it has to do with culture; the deep-seated Filipino penchant for making strangers feel at home. That, at its root, was the genesis of their graciousness and the basis of their charm. It is also one of the things I like most about this place I find so warm.
Did the book tour ultimately boost my literary bottom line?
Frankly, I have no idea. But lots of personally-autographed copies went out. And lots of people on Facebook suddenly want to friend me. All things considered, I'd say, it was the perfect pre-move vacation.
A former Los Angeles Times staff writer and winner of a 2018 Golden Mike award in radio broadcast journalism, David Haldane fell in love with the Philippines on his first visit there in 2003. A few visits later, he also fell in love with the beautiful young Filipina to whom he is now married and, with whom, he has returned many times. David has written extensively about his experiences in the Philippines for several publications including Orange Coast and Islands Magazine. Today he and Ivy, along with their eight-year-old son, Isaac, divide their time between homes in Joshua Tree, California, and Surigao City, Philippines. His award-winning memoir, Nazis & Nudists, recounts, among other things, the courtship of Ivy and finding a place to call home. For David that turned out to be at the tip of a peninsula marking the gateway to Mindanao where he and Ivy are building their dream home next to a lighthouse overlooking the sea. This blog is the chronicle of that adventure.
CLICK HERE TO PURCHASE ON AMAZON