By David Haldane
Aug. 2, 2018
The thing that finally got to me was the abundance of tears. Some belonged to friends plainly sad to see us go. When even my ex-wife joined the chorus of grief, however, I knew that the turning point we'd reached was not ours alone.
"I thought I could get through this without breaking down," sobbed the woman with whom I had shared fifteen years and conceived two children. Now both of us were happily remarried and long over the ancient pain we had caused each other. In fact, my former wife had grown so fond of my new Filipino one that she had consented to become the godmother of our only son. "I'm gonna miss both of you," she choked now, hugging Ivy and me tightly to her chest. "Please don't forget me."
The scene had taken place in the waning moments of the farewell party we had thrown for relatives and friends before embarking from the California desert to a new life in the Philippines. Most of the gathering had been marked by alcoholically enhanced laughter, bad karaoke and, frankly, a whole lot of excellent food. But then came those last few moments when our guests began saying their goodbyes with that unanswerable question hovering above their heads like so many speech balloons; would they ever see us again?
The question was on our minds too as we arose early the next morning for the long ride to the airport. There followed, of course, the usual travails of traveling; growling stomachs combined with aching rear ends, cramped movies with barely audible sound and sleep patterns completely torn to shreds.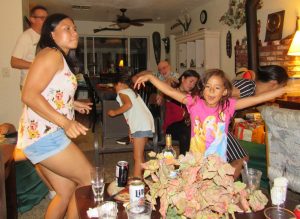 By the time we arrived for our five-hour layover in Shanghai, we felt ready for anything. Not, however, for the humorless treatment received at the hands of unsmiling airport personnel barking orders as if dealing with cattle. Not for the stern security officer who ran my carry-on through the x-ray machine three times before ripping open a newly purchased shaving kit to discard a pair of scissors just a fraction oversize. And not for the sour food server who looked like she'd rather be anywhere but there.
Ah, but then we landed in Cebu and suddenly the atmosphere changed. By then it was 3 a.m., yet everyone seemed happy to see us. A fetchingly attractive young female immigration officer cracked open my sealed resident visa envelope, welcomed us with a smile and suggested that I report to the immigration office in Surigao City, our ultimate destination, within seven days to pick up my Alien Certificate of Registration card. And when we went to the transfer desk to catch our domestic flight out, several staffers collaborated to significantly minimize the extra-luggage charge. That's when the feeling came over me that I have experienced on numerous previous occasions; a sense of relief, of happiness, of lightheartedness. It was as if a great weight had been lifted and I was back on familiar ground; back in the place that I love.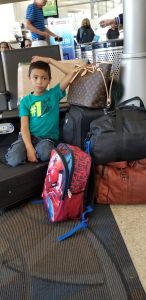 It hasn't all been smooth sailing since then, to be sure. For one thing, it turns out that the fetchingly attractive young immigration officer was dead wrong; to get my ACR card, I must return to Cebu. So, after a great deal of emergency re-scheduling, we have made plans to do just that. And because our new home is not yet finished, we expect to spend the next several weeks living out of suitcases in a series of very small rooms.
Two days ago, though, we managed to catch the ferry to Siargao Island. There, outside a rustic beach resort near General Luna, I spent an hour lying in a hammock over steaming white sand shared only with a sleeping dog. And in the morning, the voice of a young child singing next door awakened us early amidst a cacophony of crowing roosters.
That's when I knew that I was home.
A former Los Angeles Times staff writer and winner of a 2018 Golden Mike award in radio broadcast journalism, David Haldane fell in love with the Philippines on his first visit there in 2003. A few visits later, he also fell in love with the beautiful young Filipina to whom he is now married and, with whom, he has returned many times. David has written extensively about his experiences in the Philippines for several publications including Orange Coast and Islands Magazine. Today he and Ivy, along with their eight-year-old son, Isaac, divide their time between homes in Joshua Tree, California, and Surigao City, Philippines. His award-winning memoir, Nazis & Nudists, recounts, among other things, the courtship of Ivy and finding a place to call home. For David that turned out to be at the tip of a peninsula marking the gateway to Mindanao where he and Ivy are building their dream home next to a lighthouse overlooking the sea. This blog is the ongoing chronicle of that adventure.