By David Haldane
May 16, 2018
It seemed more like a birthday than a funeral. Resting in a raised wooden coffin with arms folded and eyes closed, the corpse looked like the guest of honor awaiting her party surprise. She was wearing what must have been her finest white blouse. But instead of lighting candles on a cake, the other guests – mostly children – lay sprawled out before her engrossed in a game of cards.
We didn't know these people. In fact, we had happened on their house while visiting relatives in Navotas, a shabby port city north of Manila. Seeing the door open and the crowd inside, we had mistaken the place for a club and wandered in looking for drinks. I don't remember how my camera got involved, but before long I was snapping pictures of the deceased's husband and young daughter posing proudly by her corpse. Later we got the full story; the family had just enough money for the coffin, but not for the burial. So, they were holding what we in the West might call an "open house," soliciting donations from relatives and friends. After the picture-taking and cokes, we made a small donation and bid them adieu.
I remember other unlikely encounters involving death in the Philippines. One happened in General Luna, a town on Siargao Island, where we came upon a restaurant that looked like it was open. Instead of entertaining customers, however, the owner stood against a far wall, welcoming well-wishers there to see her dead 12-year-old daughter laid out on chairs. A few years later when my wife's aunt died in her home village of Caridad, we dropped by to drink rum with relatives as the old woman reposed amid flowers on the dining room table.
What struck me about these scenes was how public they were. In the West, about the only time you see a dead body, if ever, is in a formal setting at a church or funeral parlor. And when people speak of death, it is only in hushed tones and somber whispers.
In the Philippines, it's different; death is part of life. Instead of hiding a corpse, you pose with it for pictures. And instead of whispering, you converse with your neighbors over beer.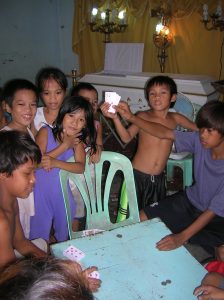 It's not hard to understand why this is so. Filipinos, for the most part, are deeply religious Catholics, so perhaps it reflects their belief in an afterlife and the survival of the soul. In a larger context, it is undoubtedly indicative of the strong influence of Hispanic culture wherein death is sometimes embraced and even celebrated as in Mexico's Day of the Dead.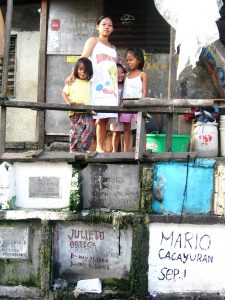 In the Philippines, I believe, poverty also plays a role. As does the relative lack of infrastructure, emergency services, proximate healthcare and institutionalized caregiving. I have spent most of my 69 years in the United States and never actually witnessed someone die. My Filipino wife, on the other hand, has had an uncle die in her arms after being shot by an anonymous intruder and been called upon to identify drowned relatives laid out in a gymnasium after their ferry sank. And all this by the time she was 24.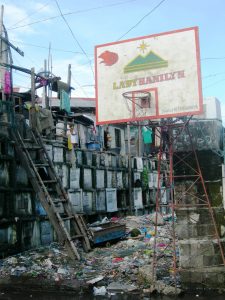 The country's uncanny familiarity with death was driven home to me by another experience on that same trip to Navotas. Sauntering around town, we found a cemetery with long-abandoned burial vaults stacked atop each other like broken toys. And living in their midst, as if in an exclusive condominium complex, an enclave of squatters went about their daily lives.
A young girl attended a Kool Aid stand selling refreshments among the graves. A group of boys played basketball in a makeshift court surrounded by tombs. And a smiling teenager proudly showed off his "room," barely aware of the names inscribed in its floor.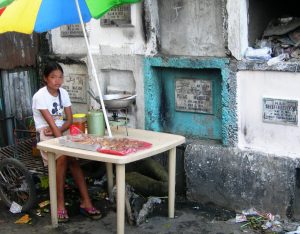 What does all this mean to me? I think it has something to do with the way I feel in the Philippines and why I keep coming back. There's a kind of wildness here, an unpredictability, a sense that anything can happen and often does. Kind of like, I imagine, living in the Old West. And here's the irony; being surrounded by all this death somehow makes me feel more alive.
Also published in Mindanao Gold Star Daily
A former Los Angeles Times staff writer and winner of a 2018 Golden Mike award in radio broadcast journalism, David Haldane fell in love with the Philippines on his first visit there in 2003. A few visits later, he also fell in love with the beautiful young Filipina to whom he is now married and, with whom, he has returned many times. David has written extensively about his experiences in the Philippines for several publications including Orange Coast and Islands Magazine. Today he and Ivy, along with their eight-year-old son, Isaac, divide their time between homes in Joshua Tree, California, and Surigao City, Philippines. His award-winning memoir, Nazis & Nudists, recounts, among other things, the courtship of Ivy and finding a place to call home. For David that turned out to be at the tip of a peninsula marking the gateway to Mindanao where he and Ivy are building their dream home next to a lighthouse overlooking the sea. This blog is the ongoing chronicle of that adventure.
CLICK HERE TO PURCHASE ON AMAZON